Anson Construction - Profile
Anson construction has been around since 2014, started operations as a humble renovation contractor / building contractor and beginning undertaking various small scale civil engineering and building projects.
Anson Construction provides one stop solution for the house owner in renovation, design / renovation consultation, project management and architectural construction for Commercial and Residential clients. . In our pursuit of excellence we sought in all area of construction, which had since become a hallmark or our success today.
We transform empty spaces into vibrant and cosy areas for living and work. We balance the aesthetic preferences of our clients with practicality and creativity. We aim to achieve long term growth with our clients and partners and always serve with safety, professionalism, expertise and highly satisfactory end results.
What does a renovation contractor do?
A renovation contractor can design and build your dream home and office. They will take on the responsible on planning the project, drawing up the designs, costing, sourcing the building materials and supplies, building the structure, installing any permanent features and possibly advising on the interior design of your home all while consulting you every step of the way. Many professionals offer a renovation package that contains bare essentials.
If you are renovating one or a few rooms of a Singapore HDB flat, Condo or Landed house, a renovation contractor can still help you on designing a kitchen, bathroom, bedroom or living room and then complete all of the renovation work for you. This could be a really good option if you are selling your home and want to increase its value. Hire a renovation contractor to redesign and renovate a few room of your house without hassle of dealing with various professional.
If you are unsure what you want and would like a second opinion, we are more than happy to offer general practical advice regarding your home renovation. We believe that our input, from a design and build point of view, will be able to offer fresh perspective for your project with regards to budget and practical constraints.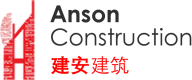 Specialize on Landed property and HDB.
Company name : Anson Construction
Year Founded : 2014
Full time employee : 5-10
Revenue : $1 million
Core practice area : Renovation contractor